1-stop-pharmacy.com looks nothing like its name suggests. 1 Stop Pharmacy is not even an online drugstore itself. The site that 1-stop-pharmacy.com loads has the title Direct Response Marketing on it and it has very little information that can help any buyer realize what is happening. 1-stop-pharmacy.com appears to be a referral site with a number of links pointing to external sites. These links have names of popular medications such as erectile dysfunction meds, Hair loss treatments, and weight loss.
When I clicked on any of these links, I was being redirected to another domain address that appeared to have its location in the United Kingdom. The domain address is verysecure.co.uk. However, before this domain address even finished loading, I was again redirected to another web address. The web address is drmorder.je. There was no way of telling where the site I ended on had its physical location. However, I had to assume that it has its physical location in the United Kingdom since it stated that all orders would have to be paid for in UK pounds.
All this 1 Stop Pharmacy arrangement looked rather sketchy. I could not bring myself to think that this is a drugstore which is worth trusting. On drmorder.je, a buyer is supposed to fill a huge questionnaire before being allowed to complete an order.
1-stop-pharmacy.com indicates on its homepage that it accepts payment via credit cards. The acceptred credit cards include the Visa and the Mastercard. The site indicated that all other major credit cards were being accepted on the pharmacy.
1-stop-pharmacy.com indicates that goods are usually dispatched tax-free for buyers who order them in the European region. Medications are usually processed and dispatched the same day if the order has been made before 1PM.
The pharmacy stated that meds would arrive in a period of about 48 hours. However, the drugstore indicated that buyers should allow for 7 working days if there are located in the EU region and 15 working days if they have ordered their meds while in other countries before assuming their meds are lost. For medications which fail to reach their buyers, 1-stop-pharmacy.com offers a re-shipment or a refund.
To contact the customer support department, the buyer will need to use their telephone number which is 0845 121 6667, their international phone number which is 44 1534 510 271, or their fax number which is 0845 121 6669. I could not find a live chat option on the drugstore site. For general enquiries, potential customers are advised to contact the customer support department via their email address which is [email protected].
1-stop-pharmacy.com Reviews
Based on the fact that 1-stop-pharmacy.com drugstore website looked rather primitive I honestly did not have any high hopes of getting any testimonials online for the pharmacy. However, just so that I could be 100% sure that the drugstore testimonials were not available, I did check. As I had been expecting, I did not locate any user testimonials. I decided to whether the pharmacy is trustworthy by checking its domain address on ScamAdviser.com. Here are the results I got: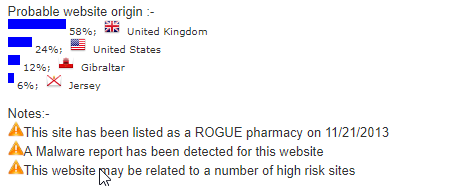 The drugstore is not specific about its location. It appears to be hiding its physical location. Scam Adviser could not tell whether the pharmacy is actually located in the UK, the United States, Gibraltar, or Jersey. Popular online drugs stores which focus on satisfying the needs of their customers don't hide their physical location. As you can see, the drugstore has already been reported as a ROGUE pharmacy. This actually happened about 5 years ago in 2013. Scam Adviser was able to detect a malware report on the drugstore site. This means that using the site is not safe. You may end up being hacked and your crucial information stolen. 1-stop-pharmacy.com is associated with a number of high-risk websites.
As per Scam Adviser's report, 1-stop-pharmacy.com is not a pharmacy I would trust. The drugstore has already been labeled as a Scam pharmacy. I wouldn't want to risk losing my money while paying for meds on the drugstore or even receive fake pills which may affect my health negatively instead of eliminating my health problems.
1-stop-pharmacy.com Reviews 2018
Again, my search for 1 Stop Pharmacy 2018 reviews bore no fruits. No one has written a review for the pharmacy in the current year. I decided to use Scamner.com to see whether trusting 1-stop-pharmacy.com would be a good idea. I got the results I was expecting:

The drugstore has a 0% trust rating on Scamner.com. The domain search program has labeled 1 Stop Pharmacy as a website which is not recommended for shopping or even browsing. The drugstore does not have many visitors. The number of visitors a drugstore has determine its reputation. Pharmacies with a large number of visitors usually have a great reputation which they have acquired after years of offering high-quality services and medications.
1-stop-pharmacy.com Coupon Codes
I could not locate any coupon codes I could use on 1 stop pharmacy. The drugstore site itself did not have even a single offer that could help buyers save money. This is something that can be rather discouraging to buyers who are opting to source their meds online so that they can keep some of their money while they get to treat their health complications.
Conclusion
1 Stop Pharmacy is drugstore I would not consider ordering meds from. The website looks outdated and there are no meds on the site itself. The site will redirect you twice before you end up on a site where you have to fill out a huge questionnaire before you are allowed to order. All this makes this drugstore look untrustworthy. The pharmacy has a limited catalog. Also, the drugstore does not display any medications and their prices. The only positive thing about 1-stop-pharmacy.com is that it accepts payments via credit cards.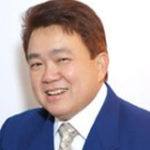 Author:
Gary Lee
Gary Lee believes that consumers have the right to real online information. She has the burden to help buyers choose their online suppliers carefully, hence the birth of Enoughenoughanthology.com, a website she created with her data analyst and web developer fiancé. Gary still works a day job as a consultant for a big data firm, but she is also hands-on with Enoughenoughanthology.com and works intensively with her team every day.