12buys.com was an online drugstore that had been operating between the years 2005 and 2013. The drugstore had been online for a period of 8 years. This pharmacy did not indicate where it was actually located. I found this to be odd since great online drug stores usually indicate their physical locations because they have nothing to hide.
12 Buys focused on the sale of both FDA approved medications and controlled substances. The pharmacy claimed that it did not carry any controlled substances but its catalog contents proved otherwise. An example of a controlled substance I found on the drugstore catalog is Xanax. The meds available on the pharmacy catalog included Arthritis meds, constipation medication, medication to aid in the treatment of burns, contraceptives, Liver disease medications, blood pressure pills, Osteoporosis medications, pain relief meds, pink eye drugs, and others. The pharmacy had both brand and generic medications.
To determine whether meds sourced on the drugstore were affordable, I checked the price for its erectile dysfunction pills. Brand Levitra price was $111.50 and $289 for 4 and 12 tablets respectively. Brand Viagra was being sold at a price of $76.50 for 4 tablets while 8 tablets would cost the buyer $169. 4 pills of generic Viagra would cost the buyer $72.50. These are among the highest prices I have found on the web. There are pharmacies selling these same erectile dysfunction medications at much cheaper prices.
12buys.com accepted a number of payment options. These included credit cards, Western Union, and MoneyGram. Among the credit cards accepted by the drugstore, there is the VISA, American Express, and Mastercard. The couriers that 12buys.com claimed to use are well-known. They include FedEx, DHL, and USPS couriers. The drugstore promised to ship all medications within a period of 24hours. If this was not possible, the meds would be shipped in the next business day. For the medications to arrive within a period of 4 to 7 days, the buyer would have to pay $35 for the Express shipping. The drugstore did not appear to prefer this option much. The other shipping option available was the Airmail method which would take between 7 to 28 days before the medications arrived.
12buys.com did not have a visible online chat option on its website. However, the pharmacy had two phone numbers. The phone number buyers who resided in the west could use to contact the drugstore customer support department is +1 707 885 1316. Those who reside in the East could use +1 413 382 4484. The pharmacy also had three email addresses which are [email protected], [email protected], and [email protected] The drugstore neither offered refunds nor accepted any returns.
12buys.com Reviews
The testimonials available for 12 Buys up to the time it was closed show the actual reason why it is not operational. Its reviews are overly negative. I found these testimonials on an external reviews site. I have captured some of them below: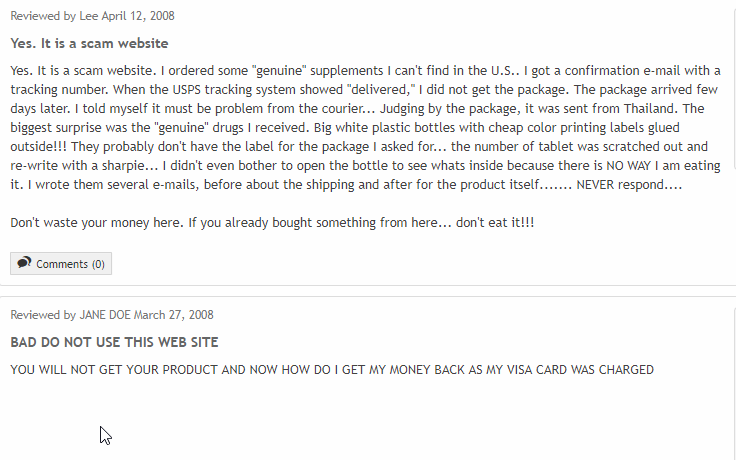 Lee reported that 12buys.com is a scam website. He ordered some genuine supplements which he could not find in the United States from the pharmacy. He received a confirmation email that contained a tracking number. When the USPS tracking showed delivered, he did not get his package. The package arrived a couple of days later. It appeared to have been sent from Thailand. The medications he received were not original at all. They were packaged in fake-looking bottles. The number of tablets had been scratched out and re-written using a sharpie. He did not even bother to check the number of pills present inside because there was no way he was gonna use fake pills. He had written emails regarding his shipment but the pharmacy never responded. A second reviewer, Jane, reports that her credit card was charged but her meds never arrived.
12buys.com Reviews 2018
12buys.com was closed in 2013. This means that its 2018 reviews are not available. However, in order to prove that this drug was a total scam, I have captured its most recent testimonials below: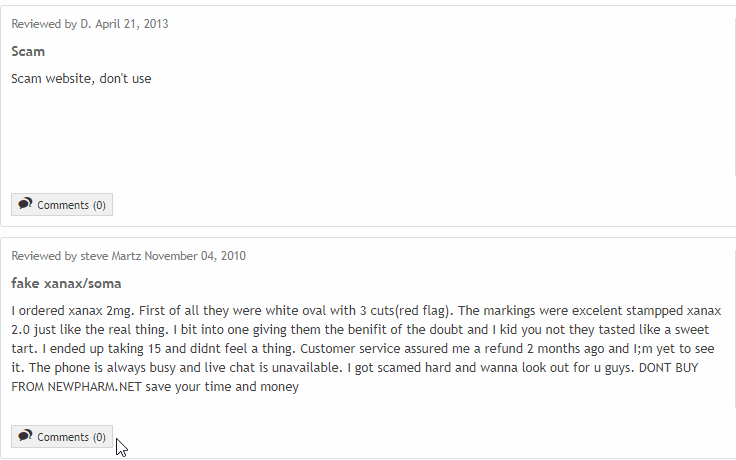 D. reports that 12buys.com is a scam website. Steve reports that after ordering Xanax 2mg from 12 Buys, the medications arrived. The medications had the stamp which indicated that they were actually Xanax 2mg. After taking 15 of these pills, he did not fill any effect. He contacted the customer support department who assured him of a refund. 2 months had already passed and the refund had not arrived yet. The 12buys.com customer support department phone number was always busy and the live chat was not available. Steve reports that he got scammed and received fake pills. He warns buyers against purchasing their meds from 12buys.com.
12buys.com Coupon Codes
12buys.com had some coupon codes and other offers which helped buyers save their money. I have captured these below: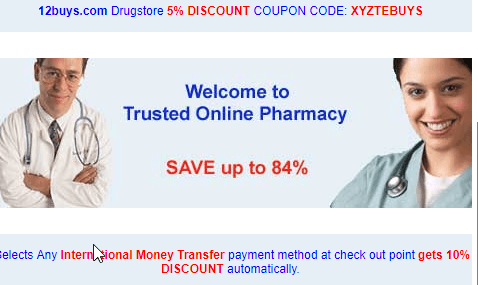 The first coupon code I found was on the drugstore homepage. The coupon XYZTEBUYS would grant any buyer who sourced his or her meds at 12buys.com a 5% discount. The drugstore also promised its buyers that they would have the ability to save up to 84% of their money by simply sourcing their meds from the drugstore.
The other offer available on the drugstore was a 10% discount for any buyer who used International Money Transfer to pay for medications. This 10% discount appeared to me as a way to get more people to pay using methods they cannot dispute payments so that the drugstore could rip them off.
Conclusion
12buys.com is a drugstore I wouldn't vouch for even if it had the biggest catalog I have come across online. The drugstore had a reputation of taking people's money and then failing to deliver meds. When the drugstore did deliver the ordered pills, these ended up being bogus pills which did not produce any medical effect on the user. 12buys.com also had extremely high prices.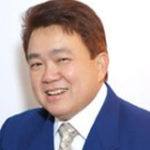 Author:
Gary Lee
Gary Lee believes that consumers have the right to real online information. She has the burden to help buyers choose their online suppliers carefully, hence the birth of Enoughenoughanthology.com, a website she created with her data analyst and web developer fiancé. Gary still works a day job as a consultant for a big data firm, but she is also hands-on with Enoughenoughanthology.com and works intensively with her team every day.