Quebec-pharmacy.net was an online drugstore that was perhaps another member of a pharmacy network since I am positive I've seen many other online drugstores having the same template and the same "Canadian Drug Store" name. The Quebec Pharmacy Net store is another case of a store with a misaligned store name and domain name – honestly, these shops leave me confused since supposedly, a store's domain name should be nearly the same as its store name.
Currently, the shop Quebec Pharmacy Net is non-functional – I visited the store and instead of seeing impotence treatments on the website, I saw an error message stating that the store can't be reached. Well, this is not the first time I've actually visited a "dead" store, so it only took me seconds to realize that Quebec Pharmacy Net is now gone.
The first thing I did was to search for relevant reviews for Quebec Pharmacy Net on the web, but frankly, there was nothing to see on the web for this store. Fortunately, I had access to web archive records for the shop and there I discovered that the store's records have existed since October 2012. This means that the records for Quebec Pharmacy Net were already on the web in 2012, but this could also mean that the site may have been incepted earlier than 2012. According to the records though, Quebec Pharmacy Net was created in 2008 and that's basically it – Quebec Pharmacy Net did not care to mention where it was located. However, Quebec Pharmacy Net noted that all of its products were sourced from India, from Indian FDA approved manufacturing companies, hence assuring its consumers that the medicines found on the store were safe and effective to use by the consumers.
Like the typical online pharmacy service website, Quebec Pharmacy Net offered medicines grouped per medical condition they are significant to. Medicines were easily searchable on Quebec Pharmacy Net – you don't have to know the brand or generic name of the product you need since you simply have to search the medical condition to find the drug you need. Medicines offered on Quebec Pharmacy Net included products intended for the following (plus more):
Neurologic diseases
Pain relief
Respiratory illnesses
Fertility treatments
Weight loss treatments
Impotence relief
Customers need not provide their prescriptions when they ordered from Quebec Pharmacy Net since the shop allowed no prescription purchases on the platform.
Regarding payments, the store received only credit card payments from VISA and MasterCard credit cards. As for shipping, there was no information on the shipping costs, but Quebec Pharmacy Net was clear about shipping products to consumers all around the world.
Quebec-pharmacy.net Reviews
Since there were no Quebec Pharmacy Net reviews on the internet (from third-party or external sources), I resolved to take a look at the website's existing on-site reviews I found on the archive site. Here are the testimonials written by alleged Quebec Pharmacy Net customers: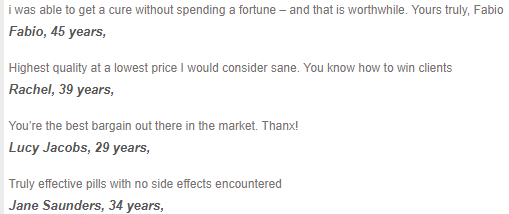 It's not really surprising that the on-site comments published on Quebec Pharmacy Net were positively geared towards the online pharmacy. Most of the on-site reviews I've read were mostly in favor of the shop they were published in unless the reviews were hosted by a third-party service.
In the case of Quebec Pharmacy Net, the reports from its consumers were great – according to Fabio, he was thankful for Quebec Pharmacy Net since the shop has helped him afford his medications.
Rachel and Lucy Jacobs also commended Quebec Pharmacy Net's good prices for its products and mentioned that the store had the best prices in the market.
On the other hand, Jane Saunders wrote that the medicines found on Quebec Pharmacy Net were effective and gave her no side effects.
However, regardless of how positive these reviews may seem, they can't be fully trusted considering they have merely originated on-site. There's a chance that these reviews may have been published by the store's staff, and there's no way of verifying if these reviews were really from legitimate Quebec Pharmacy Net clients.
Quebec-pharmacy.net Reviews 2018
Quebec Pharmacy Net has closed down before 2018 so there were actually no reviews published by the consumers for this online pharmacy. Since this was the case, I had to improvise and look for other ways to find reports for the online pharmacy.
I used the platform Scamner to tell me if the shop Quebec Pharmacy Net was safe to use by its former clients. However, the results for Quebec Pharmacy Net reflected that the shop only scored 0 out of the possible 100 points because of the following reasons:
It had no HTTPS
It was reported as an online scam on several occasions
Quebec Pharmacy Net was recognized as a spam store
Quebec-pharmacy.net Coupon Codes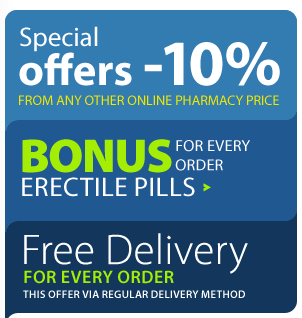 Even if coupon codes were not present on the Quebec Pharmacy Net platform, the store had other offers for its consumers, like the following:
According to the shop Quebec Pharmacy Net, it has an additional 10% off for its buyers, it offered free erectile dysfunction pills, and had free delivery for all of its products.
Conclusion
Quebec Pharmacy Net was another "Canadian Drug Store"-named online pharmacy. However, Quebec Pharmacy Net did not last for long and has eventually slipped into oblivion, leaving no reviews whatsoever from its former consumers. It's sad that online pharmacies close down eventually, but we move on – instead of sulking for the shops that have closed down, it's our job to look for new sources we could trust. I believe the stores found on our TOP Web Drugstores list are good places to start, considering their robust reviews, high trust scores, and low prices for genuine, effective medications.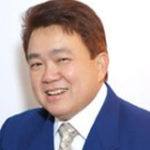 Author:
Gary Lee
Gary Lee believes that consumers have the right to real online information. She has the burden to help buyers choose their online suppliers carefully, hence the birth of Enoughenoughanthology.com, a website she created with her data analyst and web developer fiancé. Gary still works a day job as a consultant for a big data firm, but she is also hands-on with Enoughenoughanthology.com and works intensively with her team every day.